Stolní hry Avalon Hill, od 400 do 600 Kč
Partner sekce
Tomovy hry

www.tomovyhry.cz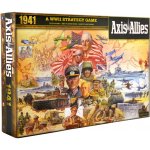 12 let, 2 - 5, 120 min
Stolní hra Axis & Allies: 1941 The World is at War!. Axis & Allies: 1941 je zjednodušenou variací klasické válečné deskové hry Axis & Allies, ve které se hráči pokouší porazit...
Uložit ke srovnání
12 let, 3 - 6, 60 min
Představuje se nám první rozšíření k vychvalované hororové deskové hře Betrayal at House on the Hill. Dům, ve kterém se základní hra odehrává, si tak můžeme rozšířít o dalších...
Uložit ke srovnání