Stolní hry Legion Wargames LLC
Partner sekce
Tomovy hry

www.tomovyhry.cz
Target For Today je hra pro jednoho hráče, která se věnuje americkému dennímu strategickému bombardování v boji proti nacisty okupované Evropě za Druhé světové války. Pro hru...
Uložit ke srovnání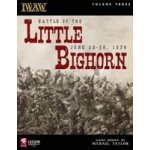 The Battle of the Little Big Horn je třetí hra ze série Indian Wars of the American West. Tato navíc ještě obsahuje kolonu Montana pod velením plukovníka Gibbonse. Bitva u...
Uložit ke srovnání
Hra Toulon, 1793 poprvé v dějinách válečných her umožňuje hráčům stát se součástí celého dobývání tohoto města. Jedná se o operační hru, která pokrývá období od počátečního...
Uložit ke srovnání